My WHTC in Brussels Belgium: About Dr. Patrick Mwamba the clinical director
Dr. Patrick
Mwamba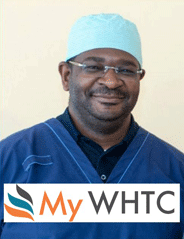 Dr. Patrick Mwamba, MD, graduated in 1998 at the Catholic University of Louvain inBelgium. Before turning to hair restoration he was working in a hospital for general surgery. At this time he acquired meticulous microsurgical skills and was gaining special experiences about many aspects of wound care.

In 2000 he first met Dr. John P. Cole of the New Hair Institute (NHI) in Atlanta/USA. A successful collaboration between Dr. Cole and Dr. Mwamba lead to his dedication for hair transplant. Working as a hair transplant surgeon significantly determined his further career. As he was able to sensitively empathize with the concerns of his patients he decided to spend almost 24 hours a day learning and practicing modern techniques of hair transplantation.

Next to his collaboration with Dr. Cole and the International Hair Transplant Institute (IHTI) Dr. Mwamba found more opportunities to collaborate with noted hair surgeons such as Dr. Paul Rose and Dr. Jean Devroye.

Dr. Mwamba learned about artistry in the hair restoration process and the latest state-of-the-art methods (e.g. Follicular Unit Transplant – FUE), which he continued to refine at his clinic. He is one of only few pioneers developing the minimally invasive technique FIT (Follicular Isolation Technique), better known as FUE. Due to its outstanding benefits for the patients this method is the focus of Dr. Mwamba´s artful work in the clinic.



World Hair Transplant Center (WHTC) - My WHTC in Brussels Belgium
In 2006 Dr. Mwamba opened his own clinic, the World Hair Transplant Center - WHTC, in Brussels/Belgium. He now offers modern and the latest state-of-the-art methods for hair restoration including the Follicular Isolation Technique (FIT), Follicular Unit Transplantation (FUT), Body Hair Transplantation (BHT), "Donor Restocking" and techniques for the repair of failed or unsuccessful hair transplants.

Dr. Mwamba is noted and appreciated by many of his colleagues. His kindness to patients, an attention to detail, a sense for meticulous precision and aesthetical surgery are marking his position in the hair transplant industry. Both the patients and his medical team feel completely comfortable in the clinic.

In his private life Dr. Mwamba is spending as much time as possible with his family in the USA. His interest in sports is compensating daily efforts on excellent work in the clinic.

Studies and Presentations

2001: Transection rate with multi-blade vs. single blade strip harvesting; Hair angulations in different regions of the scalp, International Society of Hair Restoration Surgeons (ISHRS) Annual Scientific Meeting.

2002: Stereoscopic microscope: hair transplant marketing tool or necessity for great results; Assisting surgeons in hair transplantation, ISHRS Annual Scientific Meeting.

2005: Transection rate with Follicular Isolation Technique (FIT), European Society of Hair Restoration Surgeons (ESHRS) Annual Congress.

2006: Calculated density with Follicular Isolation Technique (FIT), ISHRS Annual Scientific Meeting.
Since 2006 he has participated in every ISHRS Congress and held some more lectures on various hair transplant topics.
2010: Because the high demand from patients who want quickly be socially acceptable again, Dr. Mwamba started as one of the first fue hair surgeons in the world with an unshaven FUE hair transplant the My U-FUE Hair transplant and the special hair transplant technique "My U-FUE Classic", what means no shaving in the recpient site and no shaving in the donor area.

2014: The demand for unshaven fue hair transplant has risen further and Dr. Patrick Mwamba/WHTC - World Hair Transplant Center launches a new website exclusively with respect to the subject unshaven hair transplant, the www.ufue-hairtransplant.com